Owning a business has plenty of challenges. One of those is maintaining, and securing, your presence on the internet. I like to call that Web Presence. Once you've finally registered your domain name (somethingblahblah.com or .org or .biz etc) you have things to do, like create a website, get email addresses for yourself and/or your employees and so on. And, just as registering your business with the state opens pandora's box of marketers, so, too, does registering your domain name. So, now you have one more item to add to your to do list :
SECURE YOUR DOMAIN NAME!
I can't stress this enough. No-one, and I mean no-one, should be paying for your domain name other than you, as the owner of the business, or someone specifically dedicated in your company. Loss of that domain name means that everything you've built around it, your email addresses, website, inbound links, everything on letterhead, business cards, advertising campaigns etc. … it all gets lost.
And that's not all. It's easy to fall for the traps of seemingly legitimate notices – there are so many that come in the mail, and the internet. Here's one you should watch out for :
Domain Name Expiration Notice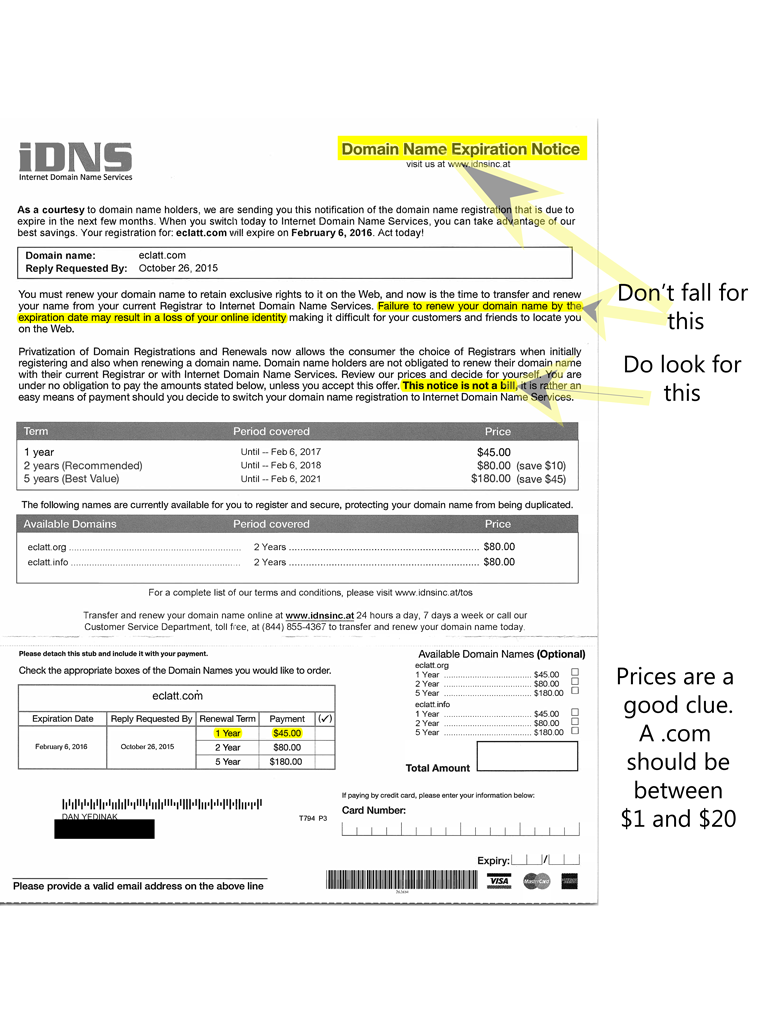 Most people register their domain names through one of a number of valid domain name registrars, including GoDaddy, Web.com, Network Solutions, 1and1, and the list goes on. Typical annual prices for a .com domain name registration range from $1 to $20, though some specialty domain extensions range in price, and there are a few predatory practitioners who register domain names and auction them to the highest bidder. Having finally registered your domain name, at some point you'll undoubtedly start getting emails, phone calls, and snail mail solications. BE CAREFUL!
Here's one example. I've highlighted some of the more glaring parts of this that should make the hair on the back of your neck stand up, and alert you to proceed directly to the shredder with that letter.
Quick Review of the things to look for
Domain Name Expiration

If this isn't coming from the company you registered with, immediately regard it with caution. Also look at today's date, and the date your domain ACTUALLY expires. If it's more than a couple of months away, that's a warning.

Failure to Renew

Notice how they're trying to get your adrenaline going, striking fear into you if you don't act. Typical advertising technique, and another red flag.

This Notice is Not A Bill

This isn't always on documents, but it's a clear indication that this should be considered solicitation to do business with someone you've never dealt with. Unless you're extremely unhappy with whoever you have currently, take this letter directly to the shredder.

Prices

This was a real kicker for me. Most domain registrars have great low cost introductory rates, like $1 or $2 for the first year, with renewals ranging anywhere from $5 to $20 for subsequent years (though there will be some variability here). Notice on this letter that the first year is $45 USD! That's crazy, and wreaks of fraud.
Now, I don't know anything about this particular company, Internet Domain Name Services (idns). However, there are plenty of people calling me about the notices they're receiving from this company, and companies like them. I'm tell you what I tell my customers – run the letter through the shredder! Whether they're a legitimate company or not, they're charging way too much, and there's too much at stake to take a chance on a company like that. You might find that you've just paid something, for nothing – and that's never a good way to run a business.
A Few Other References
I did a quick search for iDNS and found a number of other people reporting similar issues with exactly the same letter I just showed you. Feel free to review if you'd like a little more information.